Firmware Guide
1. Preparing
1.1 Firmware

If you're happy with the stock firmware, just use that. You can skip this section (1.2) entirely

Otherwise, you can go here for LDK firmwares :

RetroFW/Useless Firmware : https://github.com/retrofw/firmware

Difference between RetroFW and Useless Firmware : RetroFW is newer one, and recommended by most, but currently with less supporting games/softwares. More games and softwares are added gradually along time.
So if you just want the emulation and don't really care about the native apps/games go with RetroFW. Better features, better emulation overall. There's no reason to stick with Useless Firmware, other than the native apps/games.
Useless firmware is the older one but with more supporting games/softwares. Closer to stock rom that was preinstalled when you first received your LDK.
You should use either, since they actually feel the same, most changes are done under the hood.
It's all up to you. But then again, if you still use stock and happy with it, then 
there's no need using the above firmwares
.
Image Writer (write .img file to SDCard)
Etcher : 
https://etcher.io
Rufus : 
https://rufus.ie
Etcher is the most recommended, clean and barebone, simplistic interface.
Use Rufus only if you had problem with Etcher.
There're others such as win32diskimager or tons of other programs thar can handle .img files, but I suppose those two are simple enough and do their job wonderfully.
Partitioning
Partitioning only needed if you need to expand/shrink the FAT32 partition.
 If the firmware is working and you got no missing space on your SD, then there's no need to do any partitioning.
Also, there's an unallocated 8mb partition before the EXT3, but just leave it like that.
You can use any partitioning tools out there.
For Windows you can use Minitool Partition Wizard here :
https://www.partitionwizard.com/free-partition-manager.html
For Linux you can use GParted.
The SDCard written with the firmware will have 3 partitions; EXT3 (Linux; about 128 mb), SWAP (Linux swap partition; about 256 mb) and FAT32 (should fill the rest of the space; do the math yourself).
You can use Partition Wizard to hide EXT3 and SWAP partition so Windows don't mount them, which will causes Windows to tell you to format the card.
Full guide on installing RetroFW Firmware here :
https://boards.dingoonity.org/ingenic-jz4760-devices/how-to-install-retrofw-on-your-ldkrs-97/
1.2 Copying files to the SDCard
There's no need to take the SDCard out everytime you want to copy stuffs to it.
Method 1 :
 just turn your LDK on, then plug the USB cable, it will prompt you to choose whether to use the USB connection for charging or for copying files. Windows won't see the linux and swap partition, only the FAT32 partition. After you're done, it will go back to the UI/desktop. This is my preferred method. Only works on RetroFW, not Useless Firmware.
Method 2 :
 Connect your USB cable while the LDK is off, switch your LDK on. Windows will detect LDK and on LDK it will ask you for connection options. After you're done, the LDK will turn itself off/reboot. Works on RetroFW and Useless Firmware
1.3 External SDCard
You can use the external SDCard slot (on the left side of your device)
Both cards (internal and external) are accessible from /mnt or /media
2. The goodies
2.1 Games
ROMS (ARCADE/SNES/NES/GBA/GENESIS/MASTERSYSTEM, etc)
You need to look for the roms yourself on the internet.
After you download them, you can place the roms within "roms" folder, and point the emulators to the games you want to play.
Most of the emulators will prompt you to file browsers directly at start.
Cannonball
Find outrun arcade rom, extract all the contents to .cannonball/roms
If you can't find the .cannonball folder, you can create it yourself. Create folder with any name (say "aaa"), use cmd, make sure you're at where "aaa" folder is located, then type (without the quote) "ren aaa .cannonball". Then create the "roms" folder inside it.
OpenBOR
http://www.chronocrash.com
OpenBOR itself is an engine. You need to download the .pak files (you can find them on the link above) and place it inside the pak folder within the OpenBOR folder. After that, just start up OpenBOR, then pick the .pak file you want to play.
Tons of goodies here, most of the games are beat-em-ups, Final Fight/Streets of Rage clones, but there're some exceptions, like Contra Locked and Loaded.
NOT ALL game modules (pak) would run on LDK though.
On the side note, this firmware :
https://boards.dingoonity.org/ingenic-jz4760-devices/ldk-retrogame/msg186707/#msg186707
Have paks file inside openBOR folder, and (probably) curated.
You can flash that firmware to another SDCard or USB stick, then extract the paks.
Doom engines
Can use either official/full version .wad files (doom.wad, doom2.wad, plutonia.wad, tnt.wad, heretic.wad, hexen.wad) or these free alternatives :
Chocolate Doom
freedoom wad : 
https://freedoom.github.io/download.html
Chocolate Heretic
blasphemer wad : 
https://www.doomworld.com/vb/freedoom/70732-blasphemer-discussion/
Chocolate Hexen
Zauberer wad : 
https://www.doomworld.com/vb/freedoom/72519-zauberer/
Unfortunately Hexen Deathkings of the Dark Citadel isn't supported.
You can place the wads either within the chocolate-doom folder or separated folder (i.e. "wads" inside "roms" folder)
ECWolf/Wolf3D
Shareware version included. But ECWolf can use .wl6 files (full version files).
For Wolf3D however :
https://boards.dingoonity.org/ingenic-jz4760-devices/wolfenstein-3d-won't-accept-full-version/
TL:DR, you need to find the EXACT full version recognized by the program. Which one? I don't know. I haven't succeeded myself. Moving on to other games.
Quake & Quake 2
Shareware version included. But can use the full version of pak0.pak and pak1.pak (id1 folder for Quake 1, baseq2 folder for Quake 2), replace them in your RetroFW SDcard.
Scummvm
Game engine mostly intended to play Lucasarts and Sierra 90's point and click adventure games. You can point out the game folders within ScummVM UI. Most likely supports more than Lucasarts and Sierra's games. You'll have to look it up yourself.
2.2 (currently) Stock/Useless Firmware Only
Bermuda
Need to use Bermuda Syndrome files. Place all the files from the full version within "data" folder inside bermuda folder. Intro movies don't work (only sounds), but the game itself works.
OpenTitus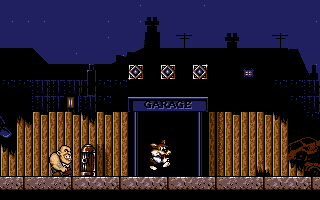 Need to use dos version of Titus the Fox files. Place all the files from the full version within "titus" inside opentitus folder.
REminiscence
Need to use Flashback for dos files. Place it inside "data" folder within reminiscense folder.
OpenJazz
Shareware version included. But can use full/CD version of Jazz Jackrabbit 1. Place all the files from the full/CD version within openjazz folder.
Eduke32
Shareware version included. But can use the duke.grp from Duke Nukem 3D Megaton edition/Atomic edition or the original Dos version. Replace the duke.grp within the eduke folder.
Rise of the Triad
Shareware version included. But can use the .wad, .rtc, .rtl files from full ROTT version. Place the files within ROTT folder.
2.3 Emulation
PS1 compatibility list
https://boards.dingoonity.org/ingenic-jz4760-devices/psx4all-compatibility-list-14066/
Game specific tweaks
https://boards.dingoonity.org/retrogamers-97/game-specific-psx4all-settings-for-rs97/
PocketSNES
Surprisingly PocketSNES runs better on 
Useless Firmware
, while at RetroFW most (if not all) Mode 7 (Super Mario Kart, Yoshi's Island, F-Zero) and Super FX (StarFox) games will suffer very significant performance problem.
Arcade
Mame4all uses 0.37b5 mame romset. I didn't test them all.
CPS1, CPS2 and NeoGeo
 games runs flawless on FBAlpha. So it is very recommended that you use FBAlpha for these 3 systems. Some vertical shoot em up displayed sideways on FBAlpha though.
For other systems outside CPS1, CPS2, NeoGeo, some will run good on Mame4all, some will run good on FBAlpha. You have to test them all by yourself.
(Useless Firmware only) Picodrive
Picodrive don't work on Useless Firmware? Try this one :
https://boards.dingoonity.org/retrogamers-97/uselessrs97-internal-firmware-for-revision-2-1/msg184239/#msg184239
Replace all the files within picodrive folder with that one, and you're set.
2.4 Skins and Customizations
Most older gmenu2x skins still works (at least on Useless Firmware).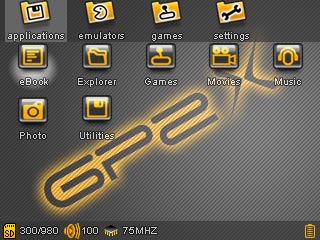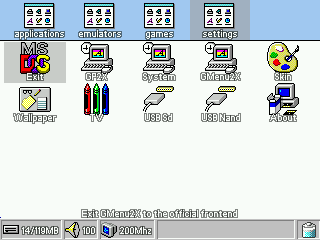 https://dl.openhandhelds.org/cgi-bin/gp2x.cgi?0,0,0,0,61
The whole stuffs only sized about 6 mb
Extract the skins you download, then check the folder structure (see the default skin folder in your gmenu2x for reference)
After that, just copy them to apps\gmenu2x\skins
NOT tested with RetroFW (GMenuNX), but it 
should
 work, since I've tested using GMenuNX default skin in GMenu2X, and it works.